SOL 6.6 Earth's Atmosphere
The student will investigate and understand the properties of air and the structure and dynamics of Earth's atmosphere. Key concepts include
air as a mixture of gaseous elements and compounds
pressure, temperature, and humidity
atmospheric changes with altitude
natural and human-caused changes to the atmosphere and the importance of protecting and maintaining air quality
the relationship of atmospheric measures and weather conditions
basic information from weather maps, including fronts, systems, and basic measurements
---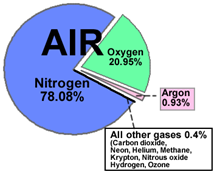 Earth's Atmosphere
Air is a mixture of gaseous elements and compounds. These include nitrogen, oxygen, water, argon and carbon dioxide. Nitrogen makes up the largest proportion of air.
Air exerts pressure. Air pressure decreases as altitude increases.
Moisture in the air is called humidity.
The atmosphere is made up of layers (troposphere, stratosphere, mesosphere, and thermosphere) that have distinct characteristics.
Temperature decreases as altitude increases in the lowest layer of the atmosphere
Most of the air that makes up the atmosphere is found in the troposphere (the lowest layer). Virtually all weather takes place there.
Natural and Human Impacts
Forest fires and volcanic eruptions are two natural processes that affect Earth's atmosphere.
Many gaseous compounds and particles are released into the atmosphere by human activity.
All of the effects of these materials are not yet fully understood.
Weather Conditions
The amounts of thermal energy and water vapor in the air and the pressure of the air largely determine what the weather conditions are.

Clouds

Clouds are important indicators of atmospheric conditions.
Clouds are found at various levels within the troposphere.
Three major types of clouds are cumulus, stratus, and cirrus.

Air Quality - Ozone

Ozone, a form of oxygen, can form near the surface when exhaust pollutants react with sunlight. This pollutant can cause health problems.
Naturally occurring ozone is also found in the upper atmosphere and helps to shield Earth from ultraviolet radiation.
Maintaining good air quality is a crucial goal for modern society, and it is everyone's responsibility to work toward it.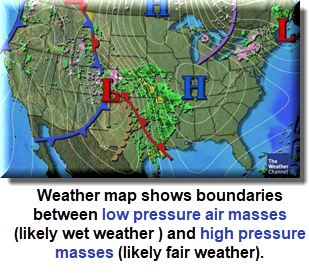 Weather Maps

Weather maps show much useful information about descriptive air measurements, observations, and boundaries between air masses (fronts).
The curved lines showing areas of equal air pressure and temperature are key features of weather maps.
Weather maps are important for understanding and predicting the weather.
Make sure you know:

how air temperature and pressure relate and are depicted on graphs and weather maps
that temperature, barometric pressure, and humidity are the factors that determine weather conditions.
the cloud types and their related weather conditions
the types of precipitation
weather-related phenomena, including thunderstorms, tornadoes, hurricanes, and drought.
how the movement of cold and warm fronts effect weather conditions