SOL 6.4 Atoms, Elements, compounds
The student will investigate and understand that all matter is made up of atoms. Key concepts include
atoms consist of particles, including electrons, protons, and neutrons
atoms of a particular element are alike but are different from atoms of other elements
elements may be represented by chemical symbols
two or more atoms interact to form new substances, which are held together by electrical forces (bonds)
compounds may be represented by chemical formulas
chemical equations can be used to model chemical changes
a limited number of elements comprise the largest portion of the solid Earth, living matter, the oceans, and the atmosphere
---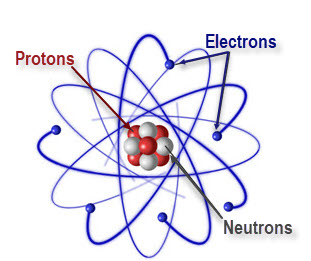 Atomic Structure
The basic structural components of a typical atom are electrons, protons, and neutrons. Protons and neutrons comprise the nucleus of an atom.
An element is a form of matter made up of one type of atom. The atoms of an element are basically alike, though the number of neutrons may vary.
The atoms of one element differ from those of another element in the number of protons.
Elements can be represented by chemical symbols.
Compounds and Chemical Equations

Two or more atoms of different elements may combine to form a compound.
Compounds can be represented by chemical formulas.
Each different element in the compound is represented by its unique symbol.
The number of each type of element in the compound (other than 1) is represented by a small number (the subscript) to the right of the element symbol.
Chemical equations can be used to model chemical changes, illustrating how elements become rearranged in a chemical reaction.
Elements forming Earth, Life, and Oceans
A limited number of elements, including silicon, aluminum, iron, sodium, calcium, potassium, magnesium, hydrogen, oxygen, nitrogen, and carbon, form the largest portion of Earth's crust, living matter, the oceans, and the atmosphere.