SOL LS.3 - Cellular Organization
LS.3 Cellular Organization
cells, tissues, organs, and systems
patterns of cellular organization and their relationship to life processes in living things.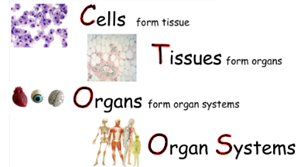 Cellular Organization
Cells that have the same function group together to form tissues.
Tissues that have the same function group together to form organs.
Organs with similar functions group to work together in an organ system.
Unicellular & Multicellular Organisms
Unicellular organisms are made of only one cell.
Multicellular organisms are made of many cells.

Multicellular organisms exhibit a hierarchy of cellular organization.
They are complex in that there is a division of labor among the levels of this hierarchy for carrying out necessary life processes.
Life Processes
Living things carry out life processes including

ingestion, digestion and removal of waste
stimulus response
growth and repair
gas exchange
reproduction

Numerous factors can strongly influence the life processes of organisms.
Cell Functions
Cells perform numerous functions and processes including

cellular respiration
waste breakdown and removal
growth and division
cellular transport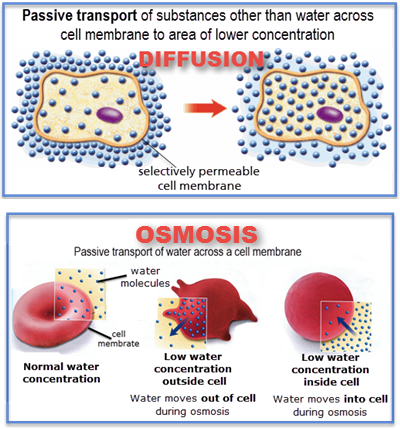 Passive Transport
Osmosis is the passive transport of water molecules across a cell membrane.
Diffusion is the passive transport of substances other than water across a cell membrane.
Cell membranes are selectively permeable to various substances.
Understand and diagram how materials move into and out of cells in the processes of osmosis, diffusion, and selective permeability