SOL PS.7 Thermal Energy
PS.7 The student will investigate and understand temperature scales, heat, and thermal energy transfer. Key concepts include
Celsius and Kelvin temperature scales and absolute zero
phase change, freezing point, melting point, boiling point, vaporization, and condensation
conduction, convection, and radiation
applications of thermal energy transfer
---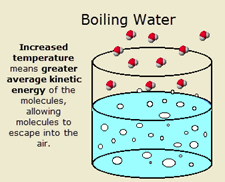 Heat and Temperature
Heat and temperature are not the same thing.
Heat is the transfer of thermal energy between substances of different temperature.

As thermal energy is added, the temperature of a substance increases.

Temperature is a measure of the average kinetic energy of the molecules of a substance.

Increased temperature means greater average kinetic energy of the molecules in the substance being measured, and most substances expand when heated.
The temperature of absolute zero (–273oC/0K) is the theoretical point at which molecular motion stops.

Atoms and molecules are perpetually in motion.
Conduction, Convection, Radiation

The transfer of thermal energy occurs in three ways: by conduction, by convection, and by radiation.





As thermal energy is added to or taken away from a system, the temperature does not always change.


There is no change in temperature during a phase change (freezing, melting, condensing, evaporating, boiling, and vaporizing) as this energy is being used to make or break bonds between molecules.
---
STUDENTS SHOULD BE ABLE TO:
Heat and Temperature
distinguish between heat and temperature.
compare and contrast Celsius and Kelvin temperature scales and describe absolute zero.
illustrate and explain the effect of the addition or subtraction of thermal energy on the motion of molecules.
analyze a time/temperature graph of a phase change experiment to determine the temperature at which the phase change occurs (freezing point, melting point, or boiling point).
compare and contrast methods of thermal energy transfer (conduction, convection, and radiation) and provide and explain common examples.
explain, in simple terms, how the principle of thermal energy transfer applies to heat engines, thermostats, refrigerators, heat pumps, and geothermal systems.