Explain that states are grouped by region as follows:
· Northeast: Maine, Vermont, New Hampshire, Connecticut, Massachusetts, Rhode Island, New York, New Jersey, Pennsylvania
· Southeast: Maryland, Delaware, West Virginia, Virginia, Kentucky, Tennessee, North Carolina, South Carolina, Georgia, Florida, Alabama, Mississippi, Louisiana, Arkansas
· Midwest: Ohio, Indiana, Illinois, Michigan, Wisconsin, Minnesota, Iowa, Missouri, Kansas, Nebraska, South Dakota, North Dakota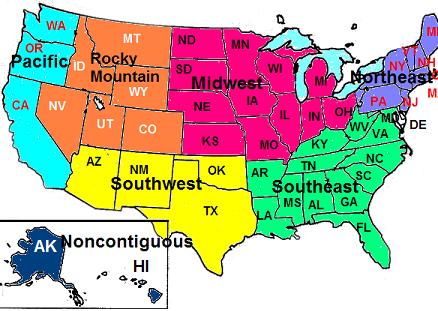 ·

Southwest: Texas, Oklahoma, New Mexico, Arizona
·

Rocky Mountains: Colorado, Utah, Nevada, Montana, Wyoming, Idaho
·

Pacific: Washington, Oregon, California
·

Noncontiguous: Alaska, Hawaii.
Explain how cities serve as centers of trade and have historically had political, economic, and cultural significance to the development of the United States. Provide examples of cities, including the following:
· Northeast: New York, Boston, Pittsburgh, Philadelphia
· Southeast: Washington, D.C.; Atlanta, New Orleans
· Midwest: Chicago, St. Louis, Detroit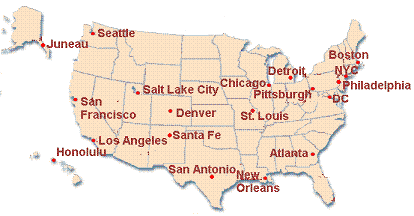 ·

·
Southwest:
San Antonio, Santa Fe

·
Western (Rocky Mountains):
Denver, Salt Lake City

·
Pacific:
San Francisco, Los Angeles, Seattle

·
Noncontiguous:
Juneau, Honolulu
Santa Fe -
The Santa Fe Trail brought people from as far away as Independence Missouri in the 1850's. From there,
travelers continued west on other connecting trails.
San Antonio - "Remember the Alamo" - Texans here staged a revolt against Mexican rule, but were slaughtered by Mexican General Santa Anna at the Alamo. With the battle cry "Remember the Alamo", Texans eventually captured the Mexican dictator and Texas became an independent republic.
New York City - The most populated American city, by 1850. Immigrants arrived at Ellis Island. Many remained in NYC and many moved to other parts of the U.S.
Pittsburgh - Center of the steel industry, begun by Andrew Carnegie.
Chicago - Specialized in the meat packing trade.
MORE CITY DESCRIPTIONS TO COME!