Use this web to answer questions 1 and 2.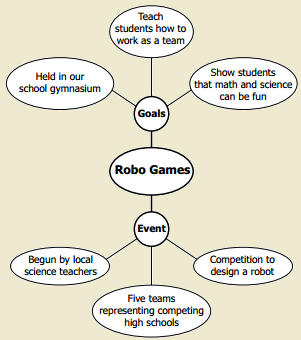 WRITING PASSAGE 1 - Use this passage to answer questions 3 - 6.
Here is the first part of Alan's rough draft.
(1)"Let the games begin!" a voice boomed over the loudspeakers in the gym. (2)The cheers and applause that erupted from the crowd normally signaled the start of an athletic competition. (3)The event was the official opening of the third annual, district-wide competition known as Robo Games. (4)This year's games were held at Hollow Creek High School last Saturday night.
(5)Designing a robot that can actually function in reality and perform tasks is a challenging thing for students to try to do, and these students worked hard to prepare for the fiercely competitive event. (6)However, the competitive spirit was not the most important aspect of the event. (7)The focus was on the value of working with teammates to achieve a common purpose. (8)The gym was decorated in the colors representing the competing high schools. (9)The five teams, each consisting of five members, proudly represented South, Valley View, Greenwood, Taft, and Hollow Creek. (10)Each team designed a robot to push a small, plastic ball through a maze, at the end of which was a cardboard shoebox. (11)Spectators cheered enthusiastically when the task was completed successfully. (12)The audience groaned and shouted encouragement when any of the robots struggled to complete the task. (13)The plastic balls had to be pushed into this box.
(14)This event was created by a group of area science teachers, including Hollow Creek's chemistry teacher, Paula Grant. (15)Mrs. Grant also coached Hollow Creek's team. (16)The team finished in second place. (17)The dedicated instructors who created this event wanted to show students how much fun math and science can be. (18)Math and science are both subject areas that require careful study.
WRITING PASSAGE 2 - Use this passage to answer questions 7 - 9.
The questions ask about the groups of underlined words.
(19)Seven weeks ago each school was given an identical box of parts for building a robot. (20)A set of rules governing the robot's design was included in the kit. (21)Each team would assemble its robot and to use only the parts from the box and the specified guidelines.
(22)There was no limit to the number of students allowed to help with designing and building the robot. (23)However, only five students could then be chosen as the official team members for the competition. (24)Of those five team members, only one could control the robot as it navigated the maze. (25)Students were also directed to a website where they submitted weekly progress reports.
(26)Most students were familiar with the basic principles of geometry and physical science that dictate the process of designing a robot. (27)However, some students had little experience with the physical construction of such a device. (28)Students had to learn how to safely use saws, drills, and other potentially hazerdous tools. (29)Local engineers, scientists, carpenters, and mechanics, all of whom volunteered their time, served as mentors to help guide students through the process of designing and building their robots. (30)These community members contributed their time and energy to this effort on weekends and after school to help make the event a success. (31)As Jaime Plantez, a senior at Hollow Creek, said, "This experience really showed me how important it was to keep my team's goal in mind." (32)His comment underscores the intended purpose of this event: to prepare students for the world beyond the classroom.
WRITING PASSAGE 3 - Use this passage to answer questions 11–13.
Here is the first part of Eileen's rough draft.
(1)Thomas Jefferson is one of the most famous patriots in our country's history. (2)Most people know him as the third President of the United States and the author of the Declaration of Independence. (3)Furthermore, Jefferson is also famous for founding the University of Virginia and designing one of the most famous structures in the United States. (4)The building is so admired that it has been featured on a United States coin. (5)This famous building is Monticello, Jefferson's home near Charlottesville, Virginia.
(6)During his life, Jefferson held many important political positions, he was also a talented scientist and architect. (7)Many people believe Monticello was Jefferson's true passion. (8)He spent 40 years personally designing, building, and renovating the home he called his "essay in architecture."
(9)Jefferson built Monticello on a mountaintop not far from the frontier farm where he was born. (10)Located on land Jefferson had inherited from his wealthy father, the house became the center of Jefferson's 5,000-acre plantation. (11)The home had 43 rooms and covered more than 11,000 square feet when it was completed. (12)Such a building could not be completed overnight, though. (13)Monticello was a work in progress for most of Jefferson's life.
(14)Jefferson began clearing the land for the house in 1768, although construction of the original design, which called for only fourteen rooms, began the following year. (15)Jefferson first moved into the partially completed house in 1770. (16)He did not have much time, though, to enjoy his new home, as his political interests soon overtook his attention. (17)Due to Jefferson's involvement with the nation's politics, progress on Monticello over the next several years was steady but slow. (18)However, the house was essentially finished by 1784 when Jefferson left for Paris to negotiate a treaty on behalf of the U.S. government.
WRITING PASSAGE 4 - Use this passage to answer questions 14-19.
Read the next part of Eileen's rough draft. The questions ask about the groups of underlined words.
(19)Jefferson had expected to be gone only one year, but he remained the minister to France until 1789. (20)During his years in Paris, Jefferson was influenced by Europe's neoclassical architecture, and upon his return to Virginia, he decided to remodel and expand Monticello. (21)The most extensive change he made was the addition of a separate domed roof to the west portico. (22)The domed roof caused some problems: the plans for the roof needed to be changed, materials had to be ordered, and the entire second story of the house had to be demolished. (23)Construction of the dome was completed in 1800, giving the house the familiar profile famously depicted on United States nickel coins. (24)The image of the west-facing side of the home is often assumed to be Monticello's front entrance; in fact, guests usually entered from the east.
(25)Jefferson continued to oversee the remodeling even during his terms as President. (26)The home's remodeling was finally completed in 1809, shortly after he left office. (27)Beyond the fine architecture, Monticello is known for its botanical gardens, which served both as a source of food and as an experimental laboratory for Jefferson. (28)He grew more than 330 varieties of vegetables in the 1,000-foot-long garden terrace and 170 different types of fruit in Monticello's two orchards.(29)Jefferson also grew an assortment of medicinal, fragrant and, culinary herbs throughout the gardens.
(30)Jefferson was deeply in debt when he died on July 4, 1826. (31)His daughter was forced to sell Monticello and most of its contents. (32)The home had fell into neglect for a long period, and many of Jefferson's possessions were sold. (33)Fortunatly, however, the Thomas Jefferson Foundation, which now owns the home, has worked hard to restore Monticello to its former glory. (34)Today, most of the furnishings in Monticello consist of items originally owned by Jefferson. (35)The remaining contents are period pieces or authentic reproductions. (36)The mansion is the only house in the United States recognized as a World Heritage Site. (37)It was also named a national landmark in 1998 by the american Society for Horticultural science. (38)With more than half a million tourists each year Monticello is one of Virginia's most popular tourist attractions. (39)Considering the historical importance of this landmark, Monticello's popularity is not likely to decline anytime soon.
WRITING PASSAGE 5 - Use this passage to answer questions 21–25.
Here is the first part of Julius's rough draft.
417 Oak Lane
Middletown, VA 22601
October 2, 2009
Ms. Cynthia Petron, Band Director
Madison High School
555 Grand Avenue
Middletown, VA 22601
Dear Ms. Petron:
(1)Last week students were encouraged to offer suggestions for a fundraiser. (2)Two significant criteria had to be met. (3)The initial investment should not exceed $250, and the event should appeal to a broad audience. (4)I have an idea that satisfies both requirements. (5)Furthermore, this idea for the band to attend the state spring competitions could, I believe, potentially generate enough money. (6)My fundraiser suggestion is a medieval feast.
(7)I'm thinking we could hold the feast on a weeknight at school. (8)The school cafeteria is the ideal location. (9)Not only is the cafeteria familiar to everyone, but also it is spacious enough to accommodate a large crowd. (10)Our principal, Mr. Meyers, is very supportive of school functions, which is why I am hopeful that he will permit us to use this space.
(11)Spaghetti will make a hearty, inexpensive, and authentic feast. (12)After all, spaghetti is a medieval food. (13)According to some historians, the explorer Marco Polo gave pasta, a dish discovered during his journeys to Asia, to his fellow Italians during the Middle Ages. (14)Guests will enjoy a delicious meal and learn an interesting fact about a common food. (15)Additionally, Mrs. Simms, our school's choir teacher, has informed me that she would be willing to make spaghetti and meatballs. (16)Mrs. Simms knows many of the band parents. (17)She could ask some of them to help her prepare the feast. (18)Of course, members of the band will assist with general cleanup after the dinner.
WRITING PASSAGE 6 - Use this passage to answer questions 26–29
. Read the next part of Julius's rough draft. The questions ask about the groups of underlined words.
(19)There are a number of inexpensive ways to make this event a success. (20)To further enrich the atmosphere, our drama teacher, Mr. Yonkowski, could provide costumes from the period. (21)These costumes can be worn by senior band members who will serve the feast. (22)Since we often play music for the drama club's productions, Mr. Yonkowski would be happy to help us. (23)Some of the junior band members could play authentic period music and to enhance the evening's atmosphere. (24)The performance would give these band members a great opportunity: the chance to be the featured entertainment.

(25)This unique and entertaining event has the potential to be an even greater success than last year's leaf-raking fundraiser. (26)The spaghetti will be delicious, the costumes adding a measure of authenticity, and the music will be a rare treat for both the audience and the performers. (27)The overall effect will be like walking into the pages of a medieval history book. (28)Guests can take a brief journey back in time while you enjoy first-rate food and entertainment. (29)Furthermore, an authentic Middle-Ages feast would help set this fundraiser apart from others and provide an enjoyable and memorable experience for all involved. (30)I am absolutly convinced that this fundraiser could be a tremendous success.

(31)Please consider my idea for the fundraiser. (32)I thank you for allowing us this opportunity.

Sincerely,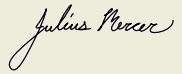 Julius Mercer