SOL 4.3 -- Adaptations, Ecosystems, Food Chains & Niches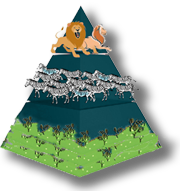 Key concepts include
interrelationships exist in populations, communities, and ecosystems;
food webs show the flow of energy within an ecosystem;
changes in an organism's niche and habitat may occur at various stages in its life cycle; and
classification can be used to identify organisms.
---
Central Idea: An ecosystem is made up of interacting components that allow for the transfer of matter and energy. Each organism has a specific niche that supports life processes.
POPULATIONS, COMMUNITIES, ECOSYSTEMS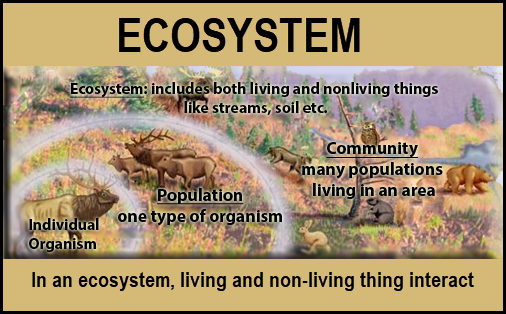 Ecosystems and their characteristics are the result of complex interactions among Earth's systems.
An ecosystem is an area where living and nonliving things interact.
Nonliving factors of an ecosystem include things such as sunlight, water, nutrients, soil, and air.
All the organisms of the same species that live in the same place at the same time are a population .

The populations of species that live in the same place at the same time together make up a community.
---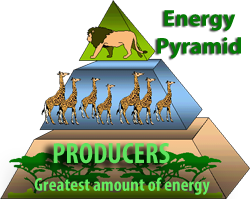 ENERGY PYRAMIDS; FOOD CHAINS
The life processes of plants and animals are interdependent and contribute to the flow of energy and cycles of matter within an ecosystem.
The interactions and organization within an ecosystem is based on the utilization of the energy from the sun.
The greatest amount of energy in an ecosystem is in the producers.
The sun's energy cycles through ecosystems from producers through consumers and back into the nutrient pool through decomposers .
Within a community, organisms are dependent on the survival of other organisms.
Energy is passed from one organism to another as modeled in a food chain or food web
The arrow in a food chain always points to the organism doing the eating.
These arrows show the flow of energy within the food chain.
A food web illustrates the interconnected and overlapping food chains in an ecosystem.
---
HABITATS
Members of a population interact with other populations in a community.

They compete to obtain resources, mates, and territory, and they cooperate to meet basic needs.

A habitat is the place where an animal or plant naturally lives.

An organism's habitat provides food, water, shelter, and space.
The size of the habitat depends on the organism's needs.
NICHES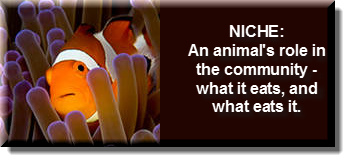 A niche is the function or role that an organism performs in the food web of that community.

A niche also includes everything else the organism does and needs in its environment, including what it eats and how it interacts with other organisms and the nonliving factors in its environment.
Organisms that share the same need for resources must compete to meet their needs.
No two types of organisms occupy the same niche in a community.
During its life cycle, an organism's role in the community (niche) may change.
What an animal eats, what eats it, and other relationships may change.

For example, tadpoles live in water, breathe through gills, and generally are herbivores. However, adult frogs live primarily on land, breathe with lungs, and are carnivores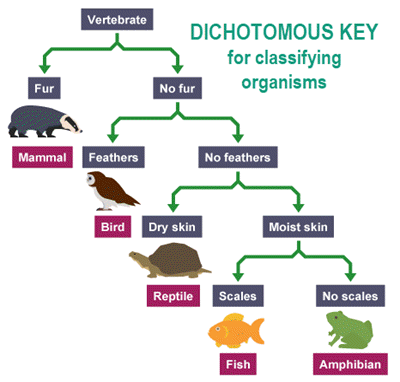 CLASSIFICATION
Noticing patterns is a key step to formulating scientific questions.
Classification relies on careful observation of patterns, similarities, and differences.
Classification is useful in explaining relationships by organizing objects or processes into groups.
Organisms can be organized into groups to help understand similarities and differences.
A dichotomous key is a tool used to classify organisms based on physical characteristics.