SOL 4.4 -- Weather

Weather conditions and phenomena affect ecosystems and can be predicted. Key ideas include:
weather measurements create a record that can be used to make weather predictions;
common and extreme weather events affect ecosystems; and

long-term seasonal weather trends determine the climate of a region.
---
Weather conditions and phenomena may have significant impact on ecosystems. The prediction of weather events is possible by tracking weather conditions.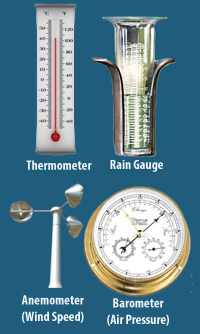 Instruments for measuring weather conditions

sun's energy makes Weather
Thermal energy transfer from the sun impacts air movement and weather conditions.
The analysis of weather data is used to predict weather events which can affect ecosystems.

Such impacts include flooding, droughts, and destruction of habitats.
Average weather data over at least 30 years determines a region's climate.
Some weather components that make up climate include average temperature, humidity, wind, and amount of precipitation.

Some components used to describe weather are temperature, atmospheric pressure, wind speed, precipitation, and cloudiness.
Data describing these components, along with the knowledge of atmospheric processes, help meteorologists forecast the weather.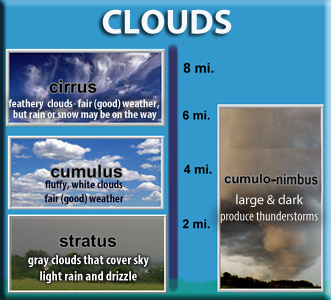 Clouds
Clouds are associated with certain weather conditions.
Cumulus clouds are fluffy and white with flat bottoms.

They usually indicate fair weather.
However, when the clouds get larger and darker on the bottom, they become cumulonimbus clouds.

Cumulonimbus clouds may produce thunderstorms.
Stratus clouds are smooth, gray clouds that cover the whole sky (and block out direct sunlight).

Light rain and drizzle are usually associated with stratus clouds.

Cirrus clouds are feathery clouds.

They are associated with fair weather.
Cirrus clouds often indicate that rain or snow will fall within several hours.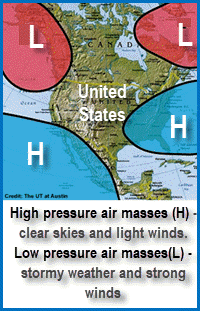 High Pressure - Low Pressure Masses
High pressure air masses are associated with clear skies and light winds.
Low pressure air masses are associated with stormy weather and strong winds.
---
Atmosphere creates weather
The atmosphere is a dynamic system and changes in conditions cause weather phenomena that may affect an ecosystem.
On Earth, atmospheric conditions create weather phenomena.


Common events include rain, snow, and fog. Extreme events include tornadoes, hurricanes, typhoons, and ice storms

Thunderstorms—Warm, humid conditions are very favorable for thunderstorm development.

A typical thunderstorm produces a brief period of heavy rain and lasts anywhere from 30 minutes to an hour.
Lightning always precedes thunder.
Hurricanes—Hurricanes occur over warm, tropical water and have winds equal to or greater than 74 miles per hour.
Tornados—Most tornadoes form from thunderstorms as the wind changes direction and the air begins to rotate.

Weather is the day-to-day state of the atmosphere for a given area.
Climate is the weather of a given area averaged over an extended period of time (years).