SOL 4.7 -- Ocean
Key concepts include:
geology of the ocean floor;
physical properties and movement of ocean water; and
interaction of organisms in the ocean. 
---
Central Idea: The ocean is a dynamic system that covers most of Earth's surface; its characteristics are unique and allow it to support a diverse number of organisms.
OCEAN FEATURES
The ocean's geological and physical properties affect the interactions among organisms .
Important features of the ocean floor are the continental shelf, continental slope, continental rise, abyssal plain, and ocean trenches.

Most areas are covered with thick layers of sediments (e.g., sand, mud, rocks).

The depth of the ocean varies.

Ocean trenches are very deep and the continental shelf is relatively shallow.
OCEAN WATER
Ocean water is a complex mixture of gases, water, and dissolved solids.

Marine organisms are dependent on dissolved gases for survival

Salinity is the measure of all salts dissolved in water.

The salinity of ocean water varies in some places, depending on rates of evaporation, the depth of the water, melting icebergs, and amount of runoff from nearby land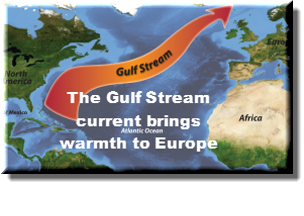 OCEAN MOTION
Ocean currents, including the Gulf Stream, are caused by wind patterns and the differences in water due primarily to temperature differences.
Ocean currents affect the mixing of ocean waters.

This can affect plant and animal populations.
Currents also affect navigation routes
OCEAN LIFE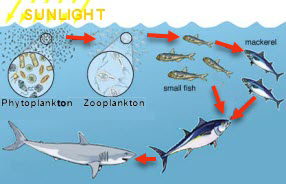 In oceans, both plants and floating organisms such as algae serve as producers within a food chain
Organisms in the ocean environment are grouped according to their movement: floating organisms (e.g., plankton), swimming organisms, and organisms that are non-moving and adhere to surfaces on the ocean floor.
These organisms play a role in ocean food chains.