SOL 4.8 - Virginia's Watersheds and Natural Resources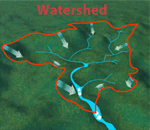 Key concepts include:
watersheds and water;
animals and plants;
minerals, rocks, ores
forests, soil, and land
---
Central Idea: Virginia has many natural resources, including watersheds, minerals, rocks, ores, soil, land, and forests.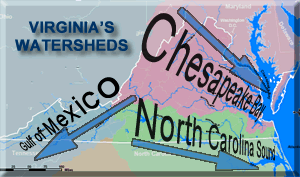 WATERSHEDS
A watershed is an area of land over which surface water flows to a single collection place.
The materials from the watershed, including pollutants, add to the water flow and impact organisms that may serve as a natural resource for humans.
The Chesapeake Bay watershed covers approximately half of Virginia's land area.
The other two major watershed systems in Virginia are the Gulf of Mexico and the North Carolina sounds
---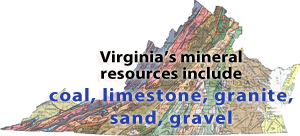 VIRGINIA'S NATURAL RESOURCES
Natural resources are necessary or useful to humans.

Many natural resources are distributed unevenly around the planet.
Virginia has many natural resources.
Some examples of Virginia's natural resources include minerals, plants, animals, water, soil, and land

Virginia's water resources include lakes, rivers, bays, and the Atlantic Ocean .
Virginia has a great variety of plant and animal resources.

Plants hold soil in place to reduce erosion, which aids in improving water quality.
Plants provide food, materials for shelter, habitats, and add oxygen to the air.
Animals provide materials such as food, fiber, and leather.
Healthy populations of plants and animals are critical for life.

Minerals, ores, and rocks are considered natural resources and have specific purposes in everyday life (e.g., building materials and fuel sources).
Natural and cultivated forests are widespread resources in Virginia.

Uses of forests include providing building materials, fuel, and habitats.

Virginia's soil and land support a great variety of life and provide space for us to live, work, and play.