SOL 4.8 - Virginia's Watersheds and Natural Resources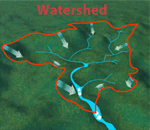 Key concepts include:
watersheds and water resources;
animals and plants;
minerals, rocks, ores, and energy sources;
forests, soil, and land
---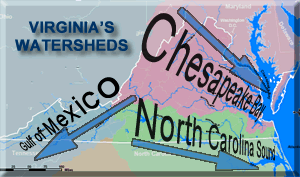 WATERSHEDS
A watershed is an area over which surface water (and the materials it carries) flows to a single collection place.

The Chesapeake Bay watershed covers approximately half of Virginia's land area.
The other two major watershed systems are the Gulf of Mexico and the North Carolina Sounds.
---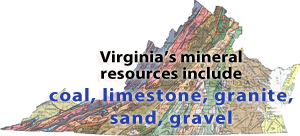 VIRGINIA'S NATURAL RESOURCES
Virginia is rich in a wide variety of natural resources, including forests, arable (farmable) land, coal, sand and aggregates (rocks), wildlife and aquatic organisms, clean water and air, and beautiful scenery.
Virginia's water resources include groundwater, lakes, reservoirs, rivers, bays, and the Atlantic Ocean.
Virginia has a great variety of plant and animal resources.
Natural and cultivated forests are a widespread resource in Virginia.
Virginia's soil and land support a great variety of life, provide space for many economic activities, and offer a variety of recreational opportunities.